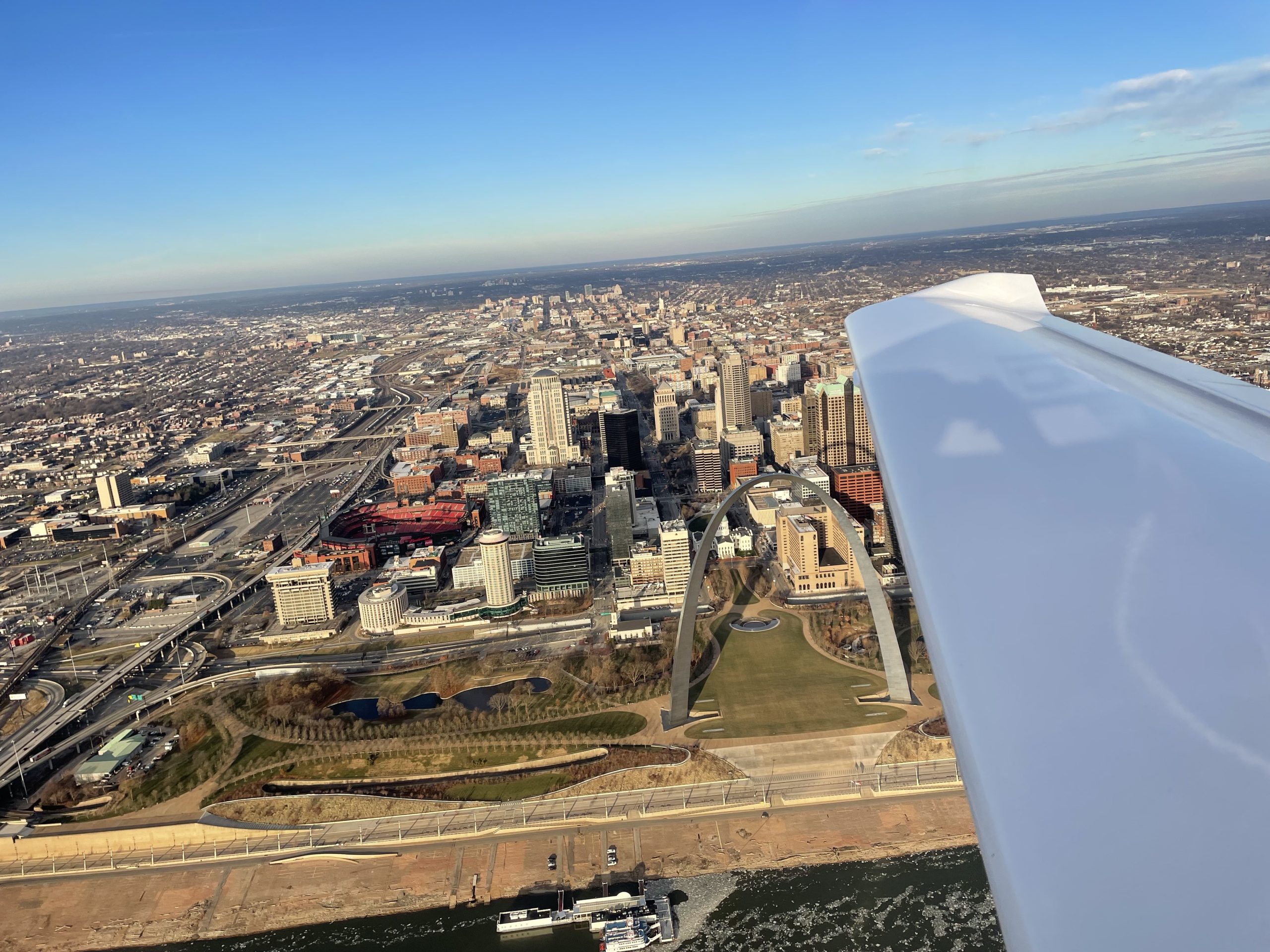 Tyler's story was featured in AviNation Magazine (p.34-35)
Tyler Johnson knew early in life that he wanted to become a pilot like his father, who was a Navy pilot and then a pilot for Southwest Airlines. Johnson's first experience in the cockpit of a plane was inside a C-130 with his father when he was only 6 years old. His father's aviation career fueled his love for flying, and so did family vacations to Pensacola where he and his family saw the Blue Angels perform as part of airshows at their home base.
"That was one of the most thrilling, exhilarating, I mean just amazing moments for me, which was my initial spark and a catalyst for my interest in aviation, and my career," Johnson said.
His actual career journey began at St. Dominic High School in O'Fallon Missouri, where he focused his studies on the foundational subjects of math, science and engineering to guide him on his path in aviation. At 15 years old, he piloted an airplane for the first time after receiving a discovery flight — an introductory flying session in which someone who is interested in becoming a pilot is paired with a Federal Aviation Administration (FAA) Certified Flight Instructor (CFI) and allowed to pilot an aircraft under their supervision.
When asked what ultimately drew him to Saint Louis University's Oliver L. Park Department of Aviation, Johnson reflected on how it actually started with his family's support of the university's sports teams. He recalled how his dad, his brother and he used to go to SLU soccer games on a regular basis, and that morphed into following the basketball team, too.
"By my senior year of high school, I found out they had an aviation program. That's what I wanted to pursue pretty much for my whole life, and with SLU being close to home, a light bulb went off and I realized this is the university where I want to begin my career," said Johnson.
Once he was accepted to Saint Louis University, Johnson began working through a course load that was tailored to his aviation degree, beginning with the most foundational principles of flight, such as aerodynamics, forces of flight, aviation physics and aviation weather. He revealed that one of his favorite classes was Safety Management Systems taught by Dr. Terrence Kelly, which ultimately led Johnson to become the chair of the Aviation Safety Committee at Parks College.
While pursuing his bachelor's degree in aviation, the SLU program also enabled Johnson to work to secure his private pilot, commercial pilot, and flight instructor certifications with instrument and multi-engine ratings. He spent about 75% of the time in the classroom and the other 25% in the cockpit during the course of earning his four-year degree.
Johnson's goal is to follow in his father's footsteps by working in commercial aviation as a pilot for Southwest Airlines, but he recognizes that achieving that goal will be a journey. Currently, at just 23 years of age, he is a flight instructor at Saint Louis University and an ambassador for Republic Airways. His teaching role with SLU will be key to his attaining the 1,000 hours of flight experience required to work as a commercial pilot.
"Teaching, ultimately, has allowed me to continue building experience. I think the best way to master something is to teach it effectively," Johnson said. "I wanted to work at SLU not only because of my familiarity with the program, but because I believe SLU has the best aircraft, maintenance personnel, training environment, and training structure in the Part 141 realm of aviation. I am on a first name basis with all of my professors, instructors, and the individuals that work within our airport."
Outside of work, Johnson also is the junior varsity basketball coach at St. Dominic High School. He said his teaching philosophy for both aviation students and basketball players is based on building self-confidence in his students.
"I believe that for students to have confidence in themselves, you not only have to tell them you believe in them, but actually show them you believe in them," he said.
When asked about obstacles in life that he had to overcome, Johnson shared that his father passed away due to multiple myeloma during his sophomore year of high school.
"I'm grateful for the opportunities that I've had to spend time with family and the people around me. My family and faith are at the core of who I am. The biggest obstacle I had to overcome was losing family members, but I've seen good things come from loss, like bringing our family together and closer," said Johnson. "I think being able to experience loss has allowed me to have a more mature perspective on life and affected how I've handled things like making decisions on who to spend time with on Friday and Saturday nights. I'm very family oriented, and that has really allowed me to shift my perspective and have the success that I have at 23 years old. I enjoy life so much."
Having had his passion for aviation ignited at an early age, Johnson likes to spend his days off taking interested high-school students and youth for their first flights at St. Louis Downtown Airport. One of his biggest joys in life is to give back to the next generation of aviators and allow them to see the beauty and freedom that comes with flying. He said one of his most recent adventures involved the son of the pastor at his church who expressed an interest in aviation.
"During a recent Monday I had off work, I took him through the hangar and introduced him to everybody. We were able to fly one of our airplanes and the weather was absolutely beautiful," said Johnson, who took him on a flight that went by the Gateway Arch, along the Mississippi River, and around Busch Stadium, home of the St. Louis Cardinals. "I let him have the flight controls, which allowed him to kind of see what it would be like in his training if he pursued a career in aviation. When we landed, he was grinning ear to ear with excitement."
For those drawn to aviation, Johnson suggested going to airports, airshows, and involving themselves within the aviation community because it is such tight, supportive and loving community, and those opportunities are a great way to learn about the careers available. He also stressed the need to be prepared to work hard.
"It does not take a brain surgeon to be a pilot, but it takes somebody with a great work ethic and the determination not to give up."