The St. Louis Downtown Heliport is the only FAA-approved heliport in the United States located on a floating barge open to the public. It is centrally located in the St. Louis region, at the base of the Gateway Arch with direct access to the Gateway Arch National Park.
Technical Information
| | |
| --- | --- |
| Heliport ID: | MO7 (Letters M and O, number seven) |
| Air Traffic Control: | "Downtown Tower" on 119.925 MHz. (The heliport lies within St. Louis Downtown Airport's Class D airspace and contact with the control tower is mandatory.) |
| St. Louis Area Discrete Helicopter Frequency: | 123.025 for additional communications as needed |
| Location: | N 38°37.52′ W 090°10.98′ — A 175′ X 54′ deck barge moored 50′ north of the Gateway Arch National Park |
| Elevation: | 385 feet Mean Sea Level, subject to Mississippi River level changes. (NOTE: During high water periods with the river level above 29 ft., the heliport is not accessible to land due to river water flowing over the boarding ramps. The current river level and predictions are located here.) |
| Services: | None. The heliport is normally unattended from November through March. Fuel, maintenance, long-term parking, and other services are available three miles southeast at St. Louis Downtown Airport (KCPS). |
| Prior Coordination Required: | Due to limited capacity and the sensitivity of air operations near a national monument, advance coordination is required. Submit a reservation form at least one day in advance. Confirm your approval to operate before landing via telephone at 618-514-0206 or e-mail. |
| Special Operating Procedures Apply: | Do not overfly any portion of Gateway Arch National Park. For noise abatement, avoid overflight of the Soulard and Benton Park neighborhoods to the south. (Click here for a map of those neighborhoods.) |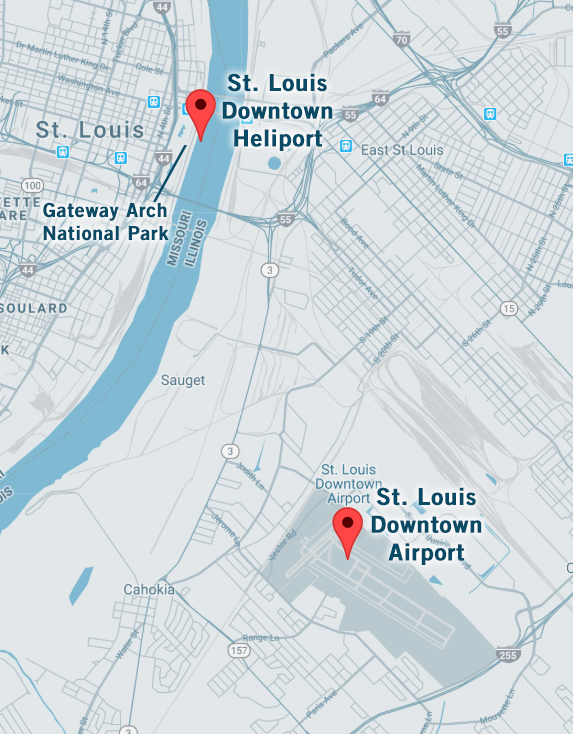 Heliport Operation Reservation Form
If you are looking to operate to/from the St. Louis Downtown Heliport, please complete this reservation form. Completion of the registration for is required.
The Heliport's characteristics require additional knowledge and specific operational procedures.
Scenic Helicopter Tours
Seasonal, scenic helicopter tours are available from Gateway Helicopters Tours, Inc. April – November. Reservations are available, but not required. Reservations are note accepted for weekend rides. Call 314-496-4494 or visit online for information. Additional riverfront activity information is available at the Gateway Arch web site.
Owned and managed by Bi-State Development
For more information, contact the following:
St. Louis Downtown Airport, 618-337-6060 or via e-mail.
Other heliports within the city include those at Anheuser Busch Brewery, Arch Aeromedical Helicopters, and the many hospitals in the area. In addition, traffic and news helicopters operate over the major interstates and news scenes, and tour helicopters conduct scenic flights around the St. Louis area. All helicopters operating within the airport's Class D airspace should be in contact with the Downtown Tower. Use caution to see and avoid them.
Most helicopter pilots monitor the St. Louis Area Discrete Helicopter Frequency, 123.025.