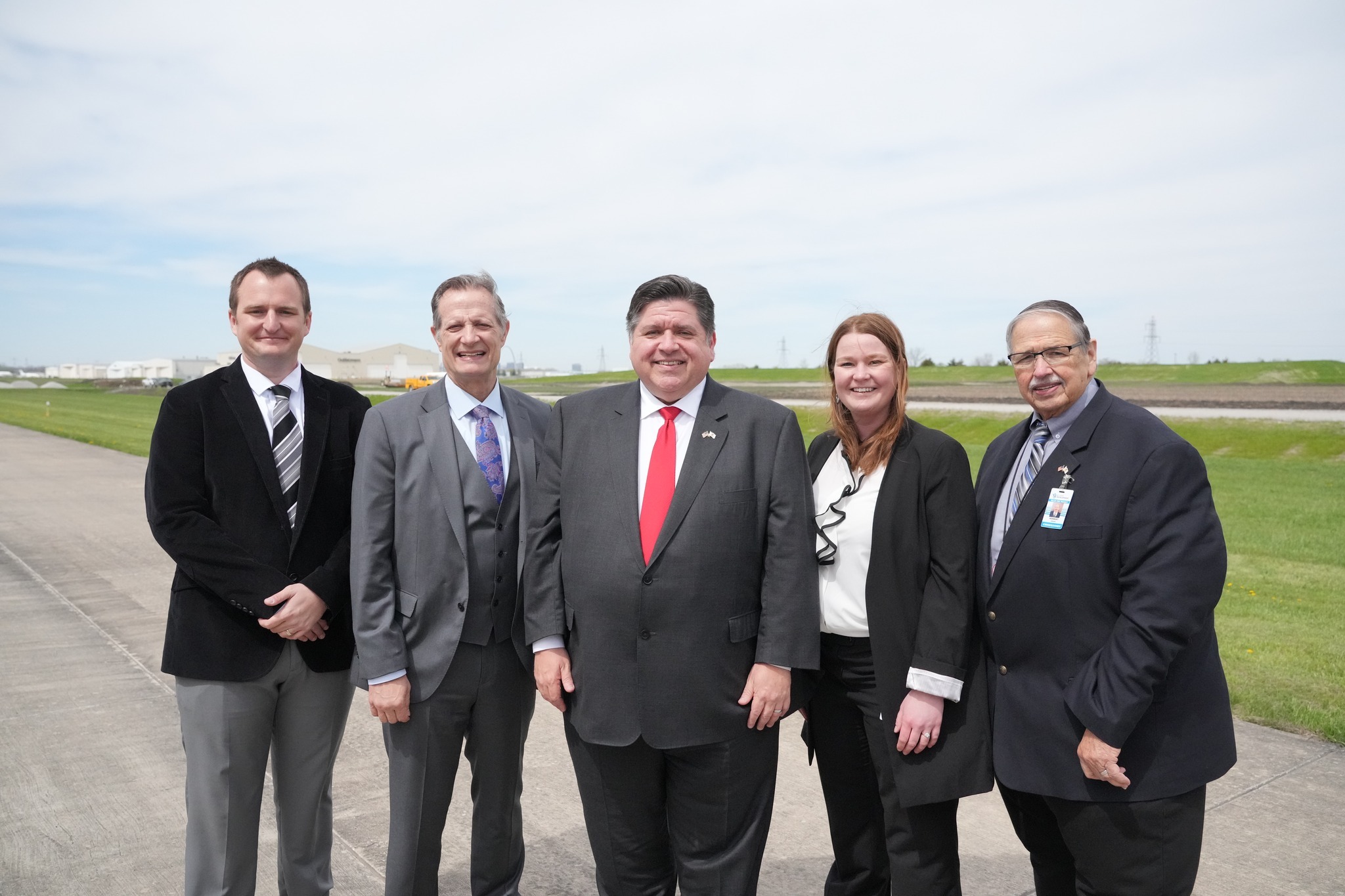 Last month, we welcomed Governor JB Pritzker, representatives from the Illinois
Department of Transportation (IDOT), elected officials and community leaders to St.
Louis Downtown Airport. Governor Pritzker held a news conference to
celebrate a
$5.4 million investment currently underway at the airport that will improve safety,
reliability, and efficiency while boosting airport business and global
competitiveness. The improvements are made possible by the Governor's historic,
bipartisan Rebuild Illinois capital program that is fueling record levels of investment
in the state's airports and projects throughout the Metro East
.
"I'm proud to announce that construction is well underway on a brand-new engine
run-up ramp equipped with taxiway access, including a noise mitigation barrier and
compass calibration pad," said Governor JB Pritzker. "Here in Illinois, we're proud to
boast one of the best and largest aviation systems in the entire nation, made up of
more than 850 individual landing facilities, supporting over 490,000 jobs and
contributing over $95 billion in annual total economic impact. And, in my quest to
advance the economic development, especially of this region, a crucial component
is the modernization and maintenance of our airports that are here and support for
the people that keep them up and running."
The $5.4 million project is a critical improvement that will primarily benefit aircraft
maintenance providers operating at the airport. The project includes new airfield
pavement with jet blast deflectors to perform aircraft maintenance tests requiring
the operation of an engine at high power on the ground for several minutes
generating elevated noise levels. Two aircraft maintenance tenants alone conduct
more than 500 high-power engine run-up tests a year. The engine run-up ramp and
compass calibration pad is designed to accommodate the airport's largest aircraft
and their powerful engines.
"We
are making infrastructure investments that will keep Illinois the country's
transportation hub for generations to come," said Illinois Transportation Secretary
Omer Osman. "Congratulations to St. Louis Downtown Airport and the communities
of Cahokia Heights and Sauget. This project is going to make a big, big difference
for this airport and for this region for a long, long time."
Illinois State Senator Christopher Belt (D-Swansea) also spoke about the significance
of the project. "As a state senator, I am so proud to support projects like these that
will provide safety and boost businesses all while creating more jobs and revenue,"
said Belt. "These are the kind of investments we need to be seeing, and I'm looking
forward to the positive impact this will have on our economy, and our state."
Illinois State Representative Jay Hoffman (D-Belleville) took the opportunity to
explain, in layman's terms, exactly what the new engine run-up would do, based an
explanation provided by a representative of Gulfstream Aerospace Corp., the
airport's largest tenant and one that will utilize the new area. "If you take an engine
out of a plane and you rebuild it, you want to make sure it works. And simply, the
run-up ramp is going to let you do that," Hoffman explained. "And that's going to
mean that we're going to be competitive here with bringing in airplanes from all
over the nation to be rebuilt, which is going to mean more jobs, more economic development as we continue to see this airport grow."
Located on 1,000 acres in Cahokia Heights and Sauget in St. Clair County, Illinois — St. Louis Downtown Airport is one of the busiest general aviation airports in Illinois outside of the Chicago area. The airport is a significant driver of local and state economies, contributing more than $422 million in economic impact for the region annually, including more than 1,500 jobs. The airport supports recreational and business flying as well as flight instruction. It is home to several aircraft and helicopter maintenance organizations including Gulfstream Aerospace Corp., one of the largest aviation maintenance and repair organizations in the country.
"Your investment today here at this airport is going to affect the lives of individuals, not just in Cahokia Heights and Sauget, but throughout this region," said Curtis McCall Sr., Cahokia Heights Mayor. "I want to thank you, Governor, for not forgetting about downstate Illinois."
Richard Sauget Jr., Mayor of the Village of Sauget, said, "The Village of Sauget is excited for the Airport and their receiving of the money for this project. The investment into this Airport is a reminder of how important this facility is to our area for the jobs that it provides to the immediate area, as well as how much it supports the transportation needs of the metropolitan area. The Village is appreciative of the State for its support of our wonderful facility."
"What really makes sense about a project like this is the jobs it creates and the jobs it supports," said Taulby Roach, President and CEO of Bi-State Development, which owns and operates the airport. "What matters is, when we build facilities like this $5.4 million engine run-up facility, we are supporting our private sector partners and their continued growth and success."
The project is funded through a $5 million Rebuild Illinois grant, with a local contribution of $400,000. Construction started last year and is expected to wrap up this summer.