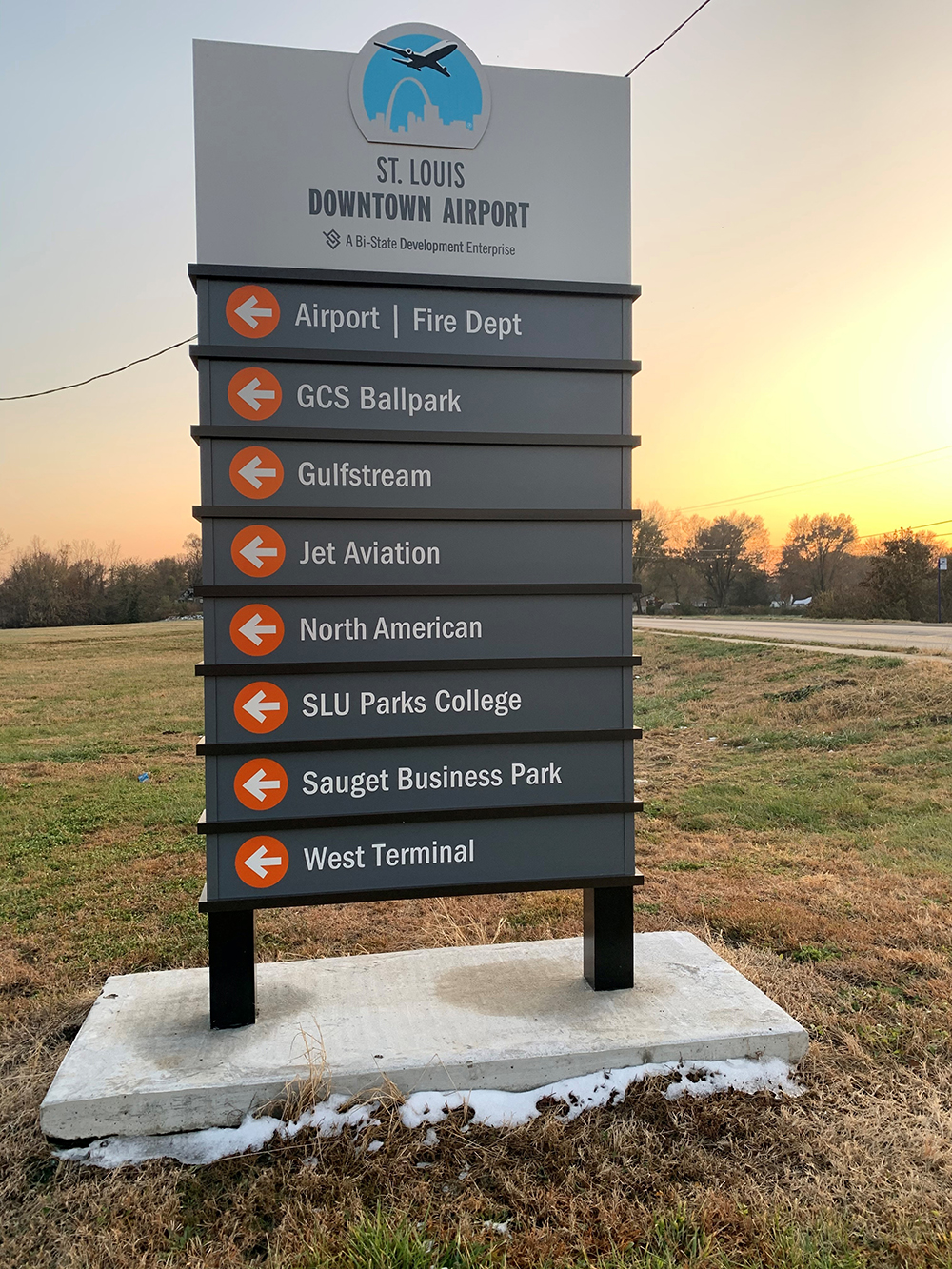 Airport Infrastructure Investments
St. Louis Downtown Airport's convenient location just a few minutes east of the Gateway Arch Riverfront contributes to it being the busiest general aviation airport in the State of Illinois outside of Chicago. The airport is home to 26 aviation businesses that offer a range of services, including charters, flight training, helicopter services, aircraft customization, maintenance, sightseeing and hangar rental. All that activity requires that the airport continuously reinvest in its infrastructure, including several recent projects that are paving the way for larger trucks, heavier loads and larger aircraft, all benefiting growing clients.
Among other tenants, the airport is home to significant operations for Gulfstream and West Star, while also housing North American Helicopters and Big River Aviation, which continue to grow. To accommodate the needs of these various tenants, St. Louis Downtown Airport has invested approximately $2.5 million in the past year and a half on various infrastructure improvements, many of which have been made in partnership with the Village of Sauget.
Here's a look at the highlights of the recently completed work:
Curtis Steinburg Drive and Sauget Business Boulevard Infrastructure Improvements
The Village of Sauget and the St. Louis Downtown Airport have collectively secured over $1.5 million in federal and state infrastructure grants to improve the Curtis Steinburg Drive and Sauget Business Boulevard intersection and the roadway leading into the airport. During Gulfstream shift changes, FedEx Ground peak season shifts and traffic bypassing the at-grade train crossing along Illinois Route 3, the recently completed roadway improvements and intersection improvements scheduled for summer of 2020 will reduce travel times for employees and improve first-mile, last-mile delays. This intersection is a critical link for freight users traveling between Interstate 255 and Illinois Route 3. Dedicated turn lanes, roadway alignment and new shoulders will accommodate large semi-trucks that support the growing Sauget Business Park, barge/rail terminals along the Mississippi River and the aviation manufacturing industry at the airport. Upgraded bus stops and ADA sidewalks will improve pedestrian safety for the growing workforce that supports these industries.
Airport and Community Wayfinding and Signage
New wayfinding signage at the airport and in the Village of Sauget is helping to enhance the brand presence of St. Louis Downtown Airport, Sauget Business Park and the surrounding community, raising greater awareness of their central location and important role in the region's aviation and industrial sector. Charter customers flying out of the airport will be welcomed by new signs on Curtis Steinburg Drive, Vector Road and Gerome Lane, helping to direct them to their destination, while facilitating ease of movement around the airport property for various tenants and their guests. New signage has also been installed along Illinois Route 3 and along Sauget Business Boulevard and Goose Lake Road, providing an enhanced experience for those visiting the Village of Sauget or the business park.
Lighting Improvements
Lighting at the St. Louis Downtown Airport is now brighter and whiter as the airport recently completed a project to replace all fluorescent, incandescent and other older bulbs on the airport property with new, energy-efficient light emitting diode (LED) lights. The airport took advantage of incentives available through the Ameren Illinois Energy Efficiency Program to complete the lighting upgrade, which will reduce electricity use by an estimated 200,000 kWh annually, generating more than $16,000 in energy savings for the airport each year.
"In addition to better quality lighting, greater visibility and higher energy savings, the project results in lower maintenance costs because the LED lights last much longer and don't have to be replaced as often," said Erick Dahl, Director of St. Louis Downtown Airport. "The new LED lighting has made a world of difference with how much brighter the airfield is now – it looks like daytime even at night."
After seeing the transformation of the airport-owned property, other individual tenants at the airport are now working to upgrade their exterior and interior lighting through the Ameren Incentive Program so they can also benefit from the energy savings.