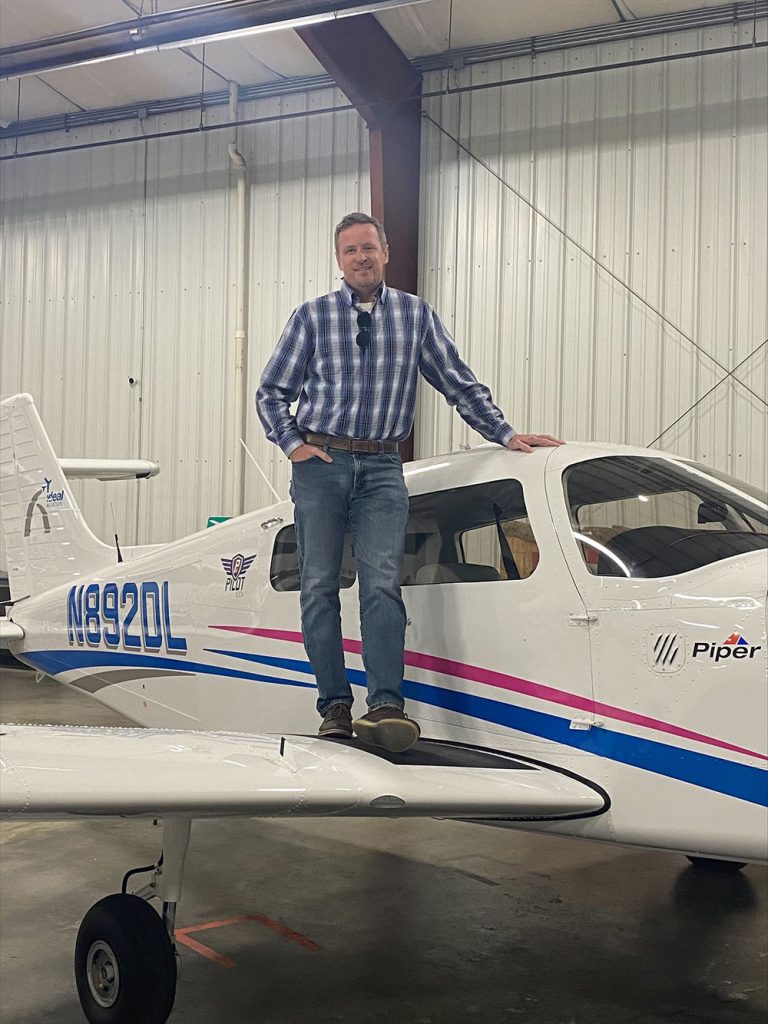 Jim Moseley dreamed of becoming a pilot as a child, but it was a dream that wouldn't be realized until decades later. After a conversation with a high school guidance counselor who mistakenly told him pilots had to have perfect vision, Moseley, who did not, grounded his desire to fly and followed a different career path. He enlisted in the Army and served his country before returning to civilian life and working his way to middle management at AT&T, and ultimately owned and managed a construction business for more than a decade. Yet, Moseley's passion to be a pilot persisted, and he learned along the way one could be a pilot with corrected vision.
At 37 years old, with the blessing of his wife, Moseley began his second career journey — enrolling in the two-year aviation program at Southwestern Illinois College (SWIC), then transferring to Saint Louis University's Parks College of Engineering, Aviation and Technology, the nation's oldest flight school which operates out of St. Louis Downtown Airport. The hands-on program included plenty of flying time, finally taking Mosely to the skies.
After four years, Moseley graduated with a bachelor's in flight science and, a day later, was offered a job as the operations manager at Ideal Aviation. Owner Bill Macon was impressed by Moseley's extensive management experience and wanted him to take the lead in structuring an official flight program. It was the beginning of a career in aviation that enabled Moseley to do what he loves best – spend time in the cockpit.
When asked about a humorous or scary experience during this new career, Moseley reflected on his second day as a flight instructor, when a student mistook his answer to a question as a command and cut the fuel to the engine. Thankfully, Moseley was able to seamlessly correct the error and returned to the ground safely. It was a prime example of the importance of in-air communication to safely operating a plane and the only time such an incident occurred in his cockpit. Moseley notes the safety component of his job is always front and center.
In 2018, the Greater St. Louis Flight Instructors Association recognized Moseley with the Flight Instructor of the Year award, an honor he is very proud of.
"The people who sit on the board are very, very experienced individuals in the aviation world," said Moseley. "I wasn't young, but as far as instructing and being in the aviation community, I was pretty new. So, for them to select me for that award, I felt very honored."
While Moseley relished his early years with Ideal Aviation, a part of him remained drawn to the possibility of flying for a commercial airline, in part so that he could leverage the additional experience when training flight students. He left his job at Ideal Aviation to pursue the flight training needed, but, due to the COVID-19 pandemic, opportunities in commercial aviation were limited. Moseley returned to Ideal Aviation, where he serves as Chief Flight Instructor and works part-time as an instructor at SWIC. It's a combination he finds very fulfilling, with no two days being the same. His position involves everything from collaboration with the maintenance team and making sure the planes are safe to fly and that the instructors are operating safely, to record-keeping, meeting with parents and students and, of course, lots of flying time.
Having begun his aviation career later in life, Moseley believes it's never too late to take flight, but also says younger generations shouldn't hesitate about pursuing their dreams and spreading their wings.
"If it's a dream of yours, do whatever you need to do to accomplish that dream and definitely work hard and study hard," said Moseley.
For those drawn to aviation who don't necessarily want to be in the cockpit, he adds that other opportunities abound.
"People, when they think of aviation, they think of pilots, but there's the support structure behind all of that," said Moseley. "Maintenance is an obvious one. But then you have air traffic controllers and people that work on the ramp and gate agents, flight attendants, and even the companies that supply the food on the airlines. It just goes on and on."