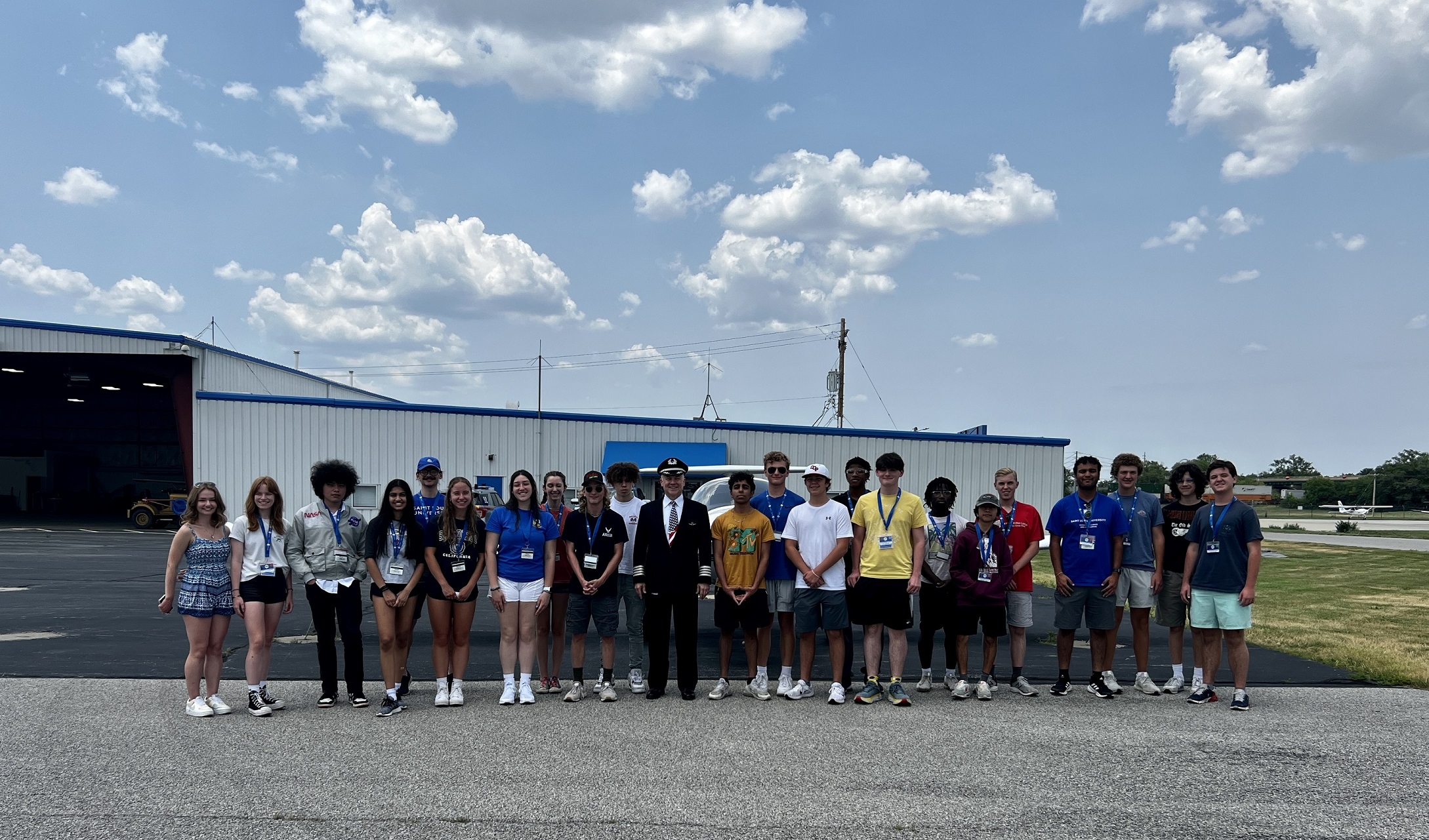 High school students from several states came to St. Louis Downtown Airport the week of June 11 for the experience of a lifetime. Saint Louis University's Oliver L. Parks Department of Aviation hosted the 2023 Aviation Summer Academy for 19 students in grades 11 and 12. They spent the week learning about the aviation industry, aviation careers and SLU's aviation program through a mixture of hands-on experiences, networking opportunities and presentations by guest speakers.
After spending time in the university's flight simulators at the airport, getting an introduction to drones in flight and taking their own short discovery flights over the downtown St. Louis area, the students took to the skies again on the afternoon of June 15 with experienced flight instructors from SLU for longer flights, during which they got to fly into a different airport and land before returning to KCPS. The longer flights gave the students a chance to integrate some of the aerial navigation planning they had learned during the week, such as reading a sectional, mapping out the course, identifying way points, calculating fuel and times, and more.
Jacob Yurko from Bellarmine College Preparatory High School in Saratoga, California, was excited to learn more about the work of pilots, engineers, mechanics, flight attendants and others in the aviation industry.
"It gives me the chance to see all the career opportunities in aviation," Yurko said. "It's not just about piloting."
Autumn May, a senior at Nerinx High School in Webster Groves, Missouri, was also enthusiastic about the variety of careers, but she was most impacted by the opportunity to fly.
"Flying on a small plane clanged my life. It's the most amazing experience, and you see the world from a different perspective," said May.
Vice President of Flight Operations for Southwest Airlines Lee Kinnebrew spoke to the students about his journey in aviation and answered their many questions. He provided insight on how the students can stand out when applying for careers in aviation, the benefits of flying public versus private, how scheduling works and the exciting future he sees ahead for the industry.
"We're hiring at a clip that is just unprecedented right now, but every airline is, so it's truly your all's market," said Kinnebrew. "And don't just pigeonhole yourself saying, hey, I want to a pilot. I want to be a mechanic. I want to be in engineering. You can find all sorts of different ways to grow during your career. So think through that and provide as wide a base as you can as you all are going through school."
Kinnebrew also talked about the Southwest Airlines culture and how important is it to hire the right people.
"That's one of the most important jobs that we have as leaders, is to make sure that the right people are out there. We've got multiple people that started off on the ramp throwing bags and they had no idea that one day they would be a vice president or they'd be a senior vice president. So don't set your sights low. Go for the gusto," Kinnebrew told the campers.
The camp also included a tour of other facilities at the airport, including the fire station. That is where the students got an up-close look at the airport's firefighting vehicle that can hold 3,000 gallons of water, 400 gallons of foam, 500 pounds of dry chemical, and 460 pounds of Halotron. The vehicle is 39 feet long and weighs 80,000 pounds when fully loaded with all firefighting agents. The students also visited the airport's largest tenant, Gulfstream Aerospace, which operates a maintenance, repair and overhaul (MRO) facility at the airport.
There is such tremendous demand for workers across all aspects of the aviation industry, and this immersive camp is an incredible opportunity for students to learn about them firsthand and gain greater insight into what their own future in aviation may be.
Caleb Carter, who attends Whitfield School in Creve Coeur, Missouri, appreciated the opportunity to get his various questions answered over the course of the camp and that the campers were able to meet a lot of people who are high up in different aspects of the aviation industry.
Amy Preis, outreach coordinator for Saint Louis University's Oliver L. Parks Department of Aviation, explained that, while getting to fly is by far the biggest draw of the camp, the overall goal is to get the students to think beyond just piloting and introduce other aviation careers they might not have known about or may not have previously considered.
"We focus on connecting high school students with our academic programs, and during our summer camps we are able to take it a step further," Pries said.
Camp participants were selected from a pool of applicants and came from California, New York, Texas, Illinois, and Missouri.