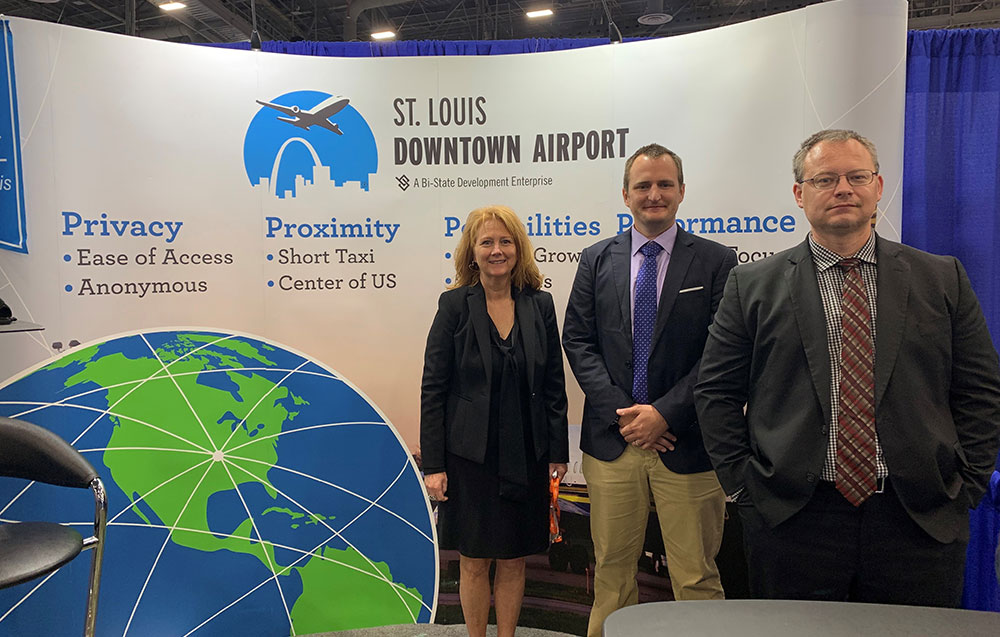 Several individuals from our team at St. Louis Downtown Airport were among the estimated more than 13,000 members of a resilient business aviation industry who attended the 2021 NBAA Business Aviation Convention & Exhibition (NBAA-BACE) in Las Vegas October 12-14. After a COVID-19-induced hiatus in 2020, the 2021 NBAA-BACE brought together business leaders, owners, operators, government officials, manufacturers, corporate aviation department personnel, and many others involved in business aviation for a conference that was among the most exciting and impactful ever hosted by the organization.
See NBAA TV clips with highlights from the show, along with news, photo galleries and dispatches from each day of the convention at the NBAA-BACE Newsroom.
"Being together at NBAA-BACE was truly exhilarating, from the packed exhibit floor, to the stunning aircraft display, to the epic keynote speakers," said NBAA President and CEO Ed Bolen. "This entire week was filled with new products and major announcements – underlining our sharp focus on technology and the future – and the enthusiasm of bringing people face-to-face was electric."
We had the opportunity to connect with other industry professionals, prospective tenants for the airport and prospective customers who may not yet be familiar with the advantages of flying through KCPS to visit St. Louis, which was recently named one of the World's Greatest Places of 2021 by TIME Magazine. We also connected with a few folks who have discovered those advantages, including a pilot who has a daughter attending Saint Louis University in midtown St. Louis and used to use a different airport in the region but now appreciates that KCPS is just 10 minutes from campus. That proximity allows him more time with his daughter and family to enjoy the region's many offerings.
We also met with several developers who were interested in the possibilities of building new hangars at St. Louis Downtown Airport, where there is ample land available for development on site, practically in the shadow of the Gateway Arch.
Companies exhibiting showcased new and upgraded aircraft and new flight planning software, and concepts for hydrogen and electric aircraft were also unveiled. The convention also hosted important conversations about the future of Advanced Air Mobility (AAM), and, as in years past, the convention was highlighted by a variety of firsts. Among them, BLADE Urban Air Mobility made history by providing by-the-seat helicopter flights between the Las Vegas Convention Center and Henderson Executive Airport, offering a firsthand glimpse at the future of on-demand AAM. Such on-demand service could be a part of future offerings at KCSP, which could accommodate it at the airport property or our nearby heliport, which is the only FAA-approved heliport in the United States located on a floating barge open to the public. It is centrally located in the St. Louis region, at the base of the Gateway Arch with direct access to the Gateway Arch National Park.
Sustainability was another central theme, and the convention's carbon-offset program made the show one of the world's largest carbon-neutral aviation events. Fuelers and operators spoke about business aviation's leadership in maturing the global market for sustainable aviation fuel (SAF).
Of course, no conference would be complete without some rousing keynotes by inspirational figures and trailblazers, and attendees heard from several, including astronaut Dr. Sian Proctor, the first Black woman to pilot a spacecraft; Olympic champion Lindsey Vonn who spoke about her return to Olympic competition after recovering from multiple injuries, as well as the U.S. Ski and Snowboard team's partnership with Textron Aviation; and motivational speaker Rob Riggle, a Marine Corps veteran, actor, and comedian who talked about the horrors of commercial aviation and the benefits of business aviation. His closing keynote featured a wide-ranging series of riffs on subjects including his experiences flying in such varied aircraft as his early private pilot trainer, a Blue Angels F/A-18D and even Air Force Two, "the second most famous private plane in the world."
"Private aviation is the dream," he concluded. "What you guys provide is aspiration. I always get along with people of the sky; people on the ground, that's another story."
If you'd like to connect with us directly for insight on how KCPS can be your discrete connection to all our region offers,  contact Mary Lamie at mclamie@nullbistatedev.org. And if you're planning to attend the NBAA Schedulers and Dispatchers Conference in January, be sure to visit us at booth #1549.