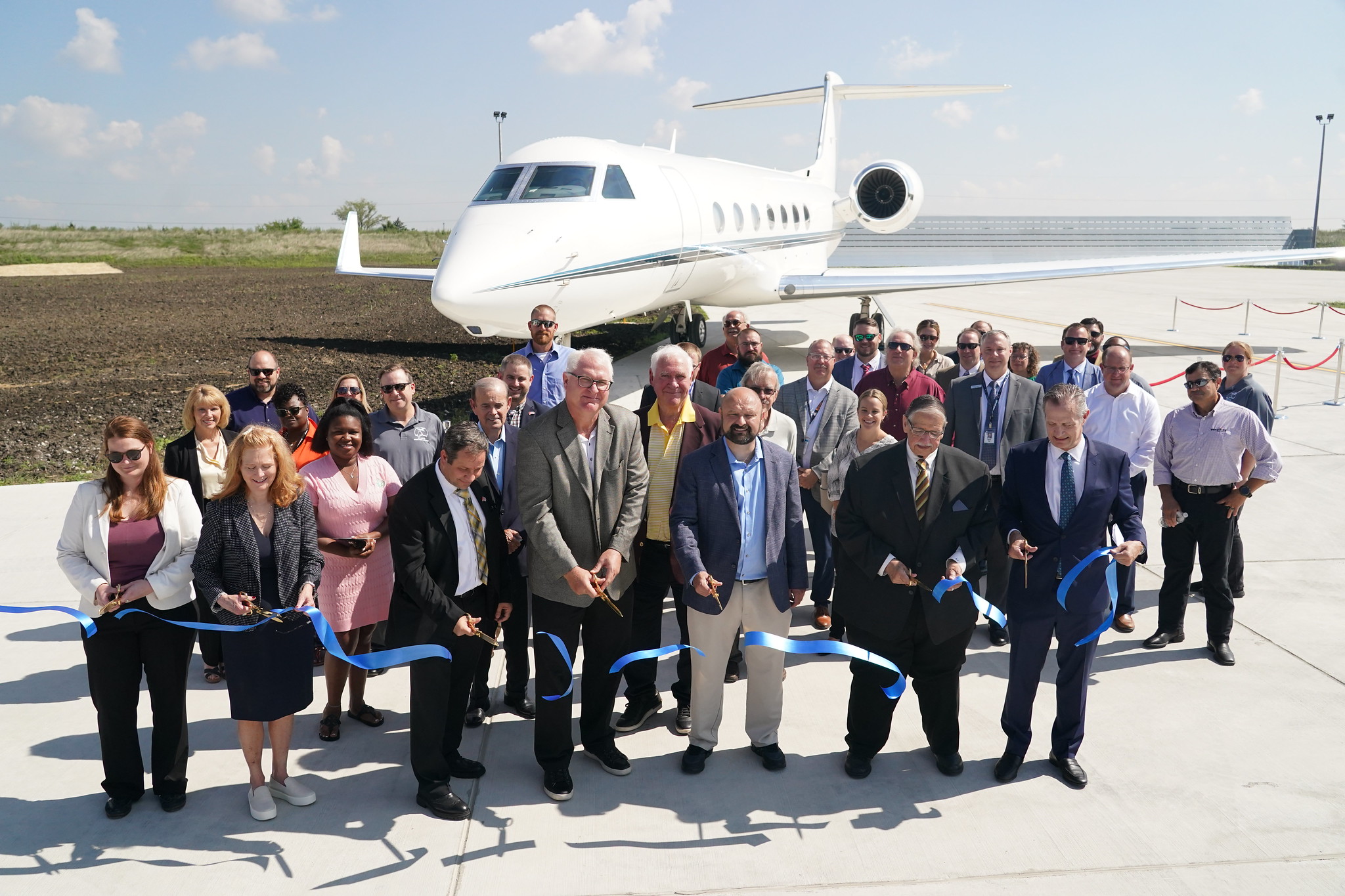 We held a ribbon-cutting event on August 16 to celebrate the official opening of St. Louis Downtown Airport's new Ground Engine Run-Up and Compass Calibration Pad project. Representatives of St. Louis Downtown Airport, Bi-State Development, the Illinois Department of Transportation, state and local elected officials and invited guests were on hand for the ceremony. The $5.4 million project will support high-tech aerospace maintenance and skilled trade jobs at the airport. The State of Illinois awarded $5 million in funding for the important project. Having a ground engine run-up area and compass calibration pad will help improve operational safety, boost airport businesses and increase global competitiveness for Southwestern Illinois, St. Clair County and the State of Illinois.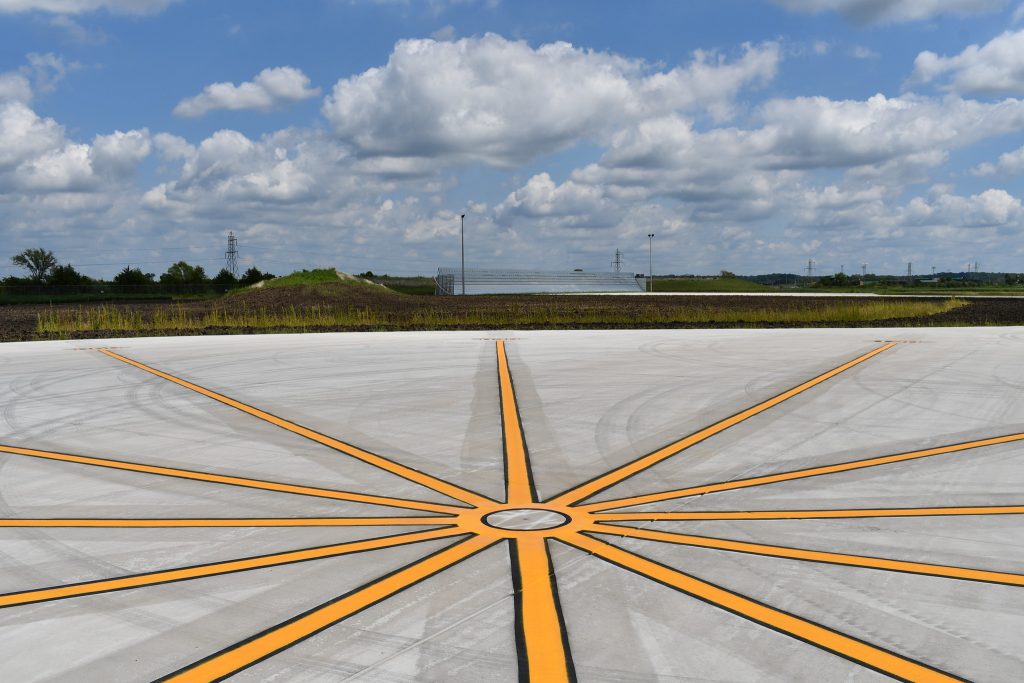 "We are especially happy to be here today because we are spotlighting our aviation system and a project at one of the state's greatest airports," said Jason Osborn, Director of the Illinois Department of Transportation's Office of Intermodal Project Implementation, during the event. "In Illinois, we like to say our multimodal system is everything not highways; our transportation system gives us a competitive advantage. Under Governor Pritzker, we are putting action behind that talk. A $5 million dollar commitment through ReBuild Illinois made this project possible."
The ground engine run-up area includes new airfield pavement with jet blast deflectors to perform aircraft maintenance tests. The tests require the operation of an aircraft engine for several minutes at high power while parked on the ground, and that generates elevated noise levels. The area will reduce aircraft engine run-up noise by more than 50%.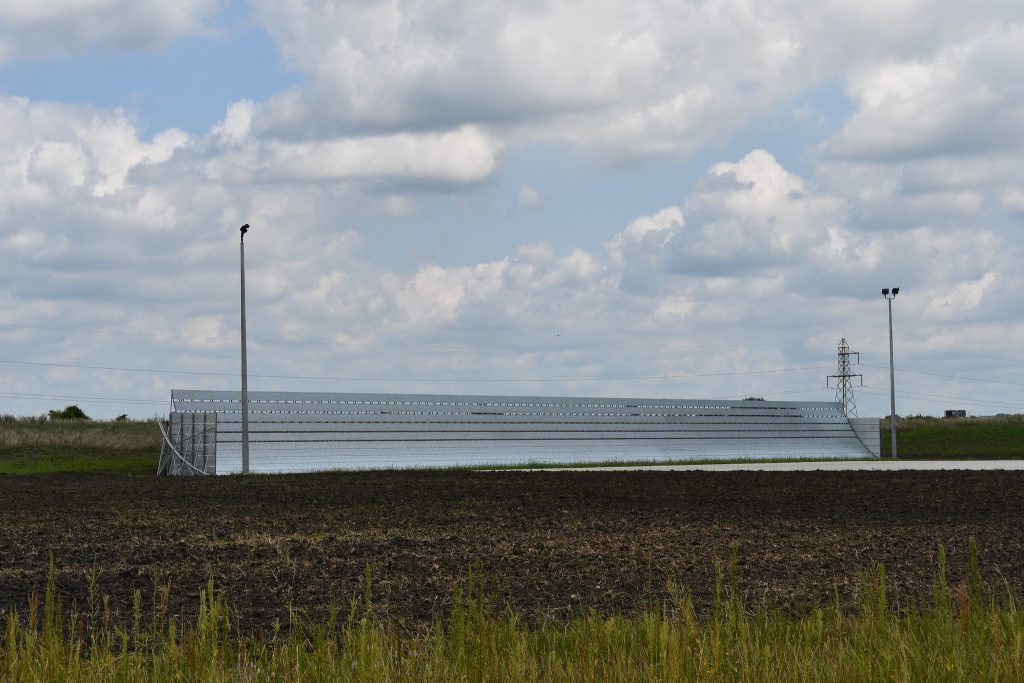 Up to 500 high-power engine run-up tests are expected to be conducted annually by the aircraft maintenance tenants such as Gulfstream Aerospace Corp. and West Star Aviation. They have indicated the existing locations for such tests are no longer sufficient given the powerful engines of today's modern aircraft, which running at full throttle can cause blast damage more than a quarter of a mile away. The ground engine run-up area is located 1,650 feet from other parked aircraft and isolated from airport operations.
"We put projects on the desks of our legislative team so we can make investments with our private sector partners and deliver the number one thing we need. And of course, what is that one thing? JOBS," said Taulby Roach, President and CEO of Bi-State Development, which owns and operates St. Louis Downtown Airport. "It is about empowering our communities and delivering the kinds of jobs that we need not only here but in Missouri too. We needed to make these important improvements to support current and future operations of our key tenants at this airport. We greatly appreciate the generous financial support from the State of Illinois for these two projects."
"This event is a testament to the collaboration, innovation and unwavering commitment to the advancement of our region," said Illinois State Representative Kevin Schmidt (R-Millstadt). "The successful execution of this project showcases the dedication and hard work of numerous individuals, including our skilled engineers, laborers and community leaders that have tirelessly worked together to bring this vision to life."
Herb Simmons, Chair of the Bi-State Development Board of Commissioners, highlighted other advantages of St. Louis Downtown Airport. "Location is everything, and being only minutes from the Gateway Arch and Downtown St. Louis makes this airport very convenient to fly in and out of and to work at," said Simmons. "We are pleased to see the airport accommodate the evolving needs of world class tenants such as Westar and Gulfstream. The investment by the State of Illinois in improvements like the Ground Engine Run Up and Compass Calibration Pad will enable Airport Director Sandra Shore and her team to continue to grow the annual economic impact and become an even bigger job center for St. Clair County. And that is something we can all celebrate."
As you probably know, St. Louis Downtown Airport is located on 1,000 acres in the communities of Cahokia Heights and the Village of Sauget. Rich Sauget Jr., Mayor of the Village of Sauget, talked about the impact of the project on other businesses in the area as tenants such as Gulfstream continue to expand their operations.
"Right to our south, we have our Sauget Business Park that will be able to thrive because of this," Sauget said. "The amount of jobs; the daytime population is in the thousands. We may be a small community, but we support our entire region through the jobs that we provide."
Baxmeyer Construction served as the general contractor for the project, which took less than 10 months to complete, and Hanson Professional Services engineered the project.