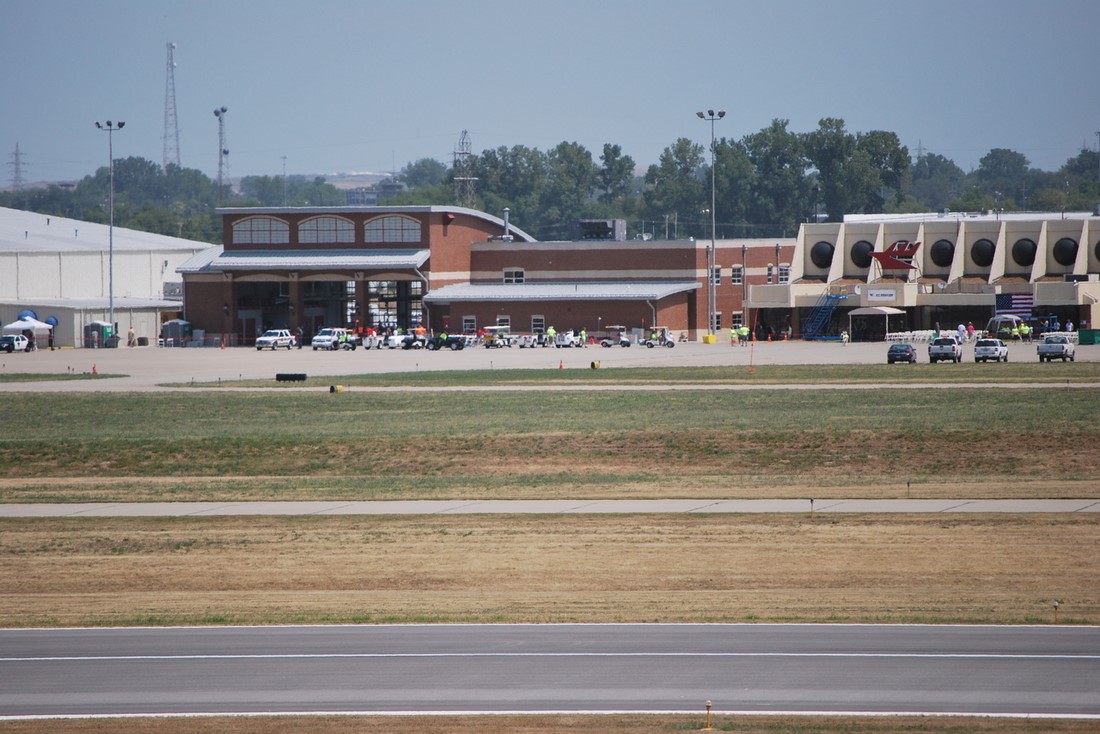 St. Louis Downtown Airport has been awarded a $2.5 million grant to help cover the cost of replacing its existing terminal, an aging facility from the 1980s, that serves as the front door for businesses and developers expanding to the region. Funding for the grant comes from the Federal Aviation Administration (FAA), which is awarding nearly $1 billion from President Biden's Bipartisan Infrastructure Law to 99 airports of all sizes across the country. The new terminal at St. Louis Downtown Airport will better meet the needs of the aviation customers who use the airport for the unparalleled access it offers to the heart of the bi-state St. Louis region, while decreasing its footprint to reduce current and future maintenance costs and making this economic engine for the region more fiscally responsible to taxpayers.
"The total cost for the terminal replacement is estimated at $4.2 million, so this funding is a tremendous start that moves us closer to kicking of the design-build project for the new terminal," said Mary Lamie, Executive Vice President of Multi Modal Enterprises at Bi-State Development, which owns and operates the St. Louis Downtown Airport as one of its enterprises. "We greatly appreciate U.S. Senator Tammy Duckworth and U.S. Senator Dick Durbin for their support of our grant application and for continuing to champion projects like this that contribute to the strength and economic vitality of Southwestern Illinois."
St. Louis Downtown Airport – like so many others nationwide – continues to see air traffic rebounding to reach or beat pre-pandemic levels. As that trend continues, the new funding aims to help meet the growing nationwide demand for air travel and invests in key areas to help get travelers in and out of airports more quickly and improve the passenger experience by investing in new baggage systems, larger security checkpoints and improved ground transportation. Other projects increase terminal sustainability and improve accessibility for individuals with disabilities.
For St. Louis Downtown Airport in particular, the project will replace the existing terminal with a new terminal that will meet all Americans with Disabilities Act (ADA) regulations and serve future ADA travelers and employees. The project will address several of the other criteria considered as part of this grant program, including:
Improving Energy Efficiency – The existing terminal is 43 years old with a large HVAC system that uses excessive energy in addition to several large bubble windows that allow airflow and water leakage.
Encouraging Actual and Potential Competition – The airport recently welcomed United as a new customer, proving the airport is already competitive. This project will only increase the airport's ability to attract new service.
Good Paying Jobs – The project will enable the airport to diversify its services to attract new customers and specialized developers with high-paying jobs, while also enabling current tenants to expand their operations and add even more highly paid personnel.
"The St. Louis Airport is a major economic driver for the Metro East and surrounding regions, and making sure it has federal support to improve its infrastructure is critical," said U.S. Senator Dick Durbin (D-IL). "This investment means improved service, safety, and efficiency for airport workers and travelers. I fought to ensure the Airport Terminal Program was included in the Bipartisan Infrastructure Law, and I'll keep advocating for our state's airports."
"The Bipartisan Infrastructure Law is putting Illinois on a path to rebuild our aviation infrastructure while also helping working Illinoisans find good-paying jobs," U.S. Senator Tammy Duckworth (D-IL) said. "I'm proud that St. Louis Downtown Airport will experience the benefits of this bill Senator Durbin and I supported, which will help families all across our state have better, safer and more accessible travel experiences."
Located on 1,000 acres in St. Clair County in Cahokia Heights and Sauget, Ill., St. Louis Downtown Airport and its tenants contribute more than $422 million in economic impact for the region and more than 1,500 full-time and part-time jobs, according to the most recent study conducted by the Illinois Department of Transportation (IDOT).
St. Louis Downtown Airport will see additional growth in 2023 when its largest tenant, Gulfstream Aerospace, expands operations and adds 140 new jobs. Gulfstream Aerospace is one of the tenants that will benefit from a current infrastructure investment underway at the airport – a new ground engine run up and compass calibration area. Construction began last fall on the $5.4 million project, which secured $5 million in state funding through the $45 billion Rebuild Illinois Capital Infrastructure Plan. Upon completion in 2023, it will improve production safety, reliability and efficiency.
"As work continues on the ground engine run up project, construction planning is already underway for the new terminal, and we look forward to firming up the local funding match and finalizing the construction schedule so we can break ground in the coming months," said Sandra Shore, Director, St. Louis Downtown Airport.
View a data visualization of all the airports receiving funding.