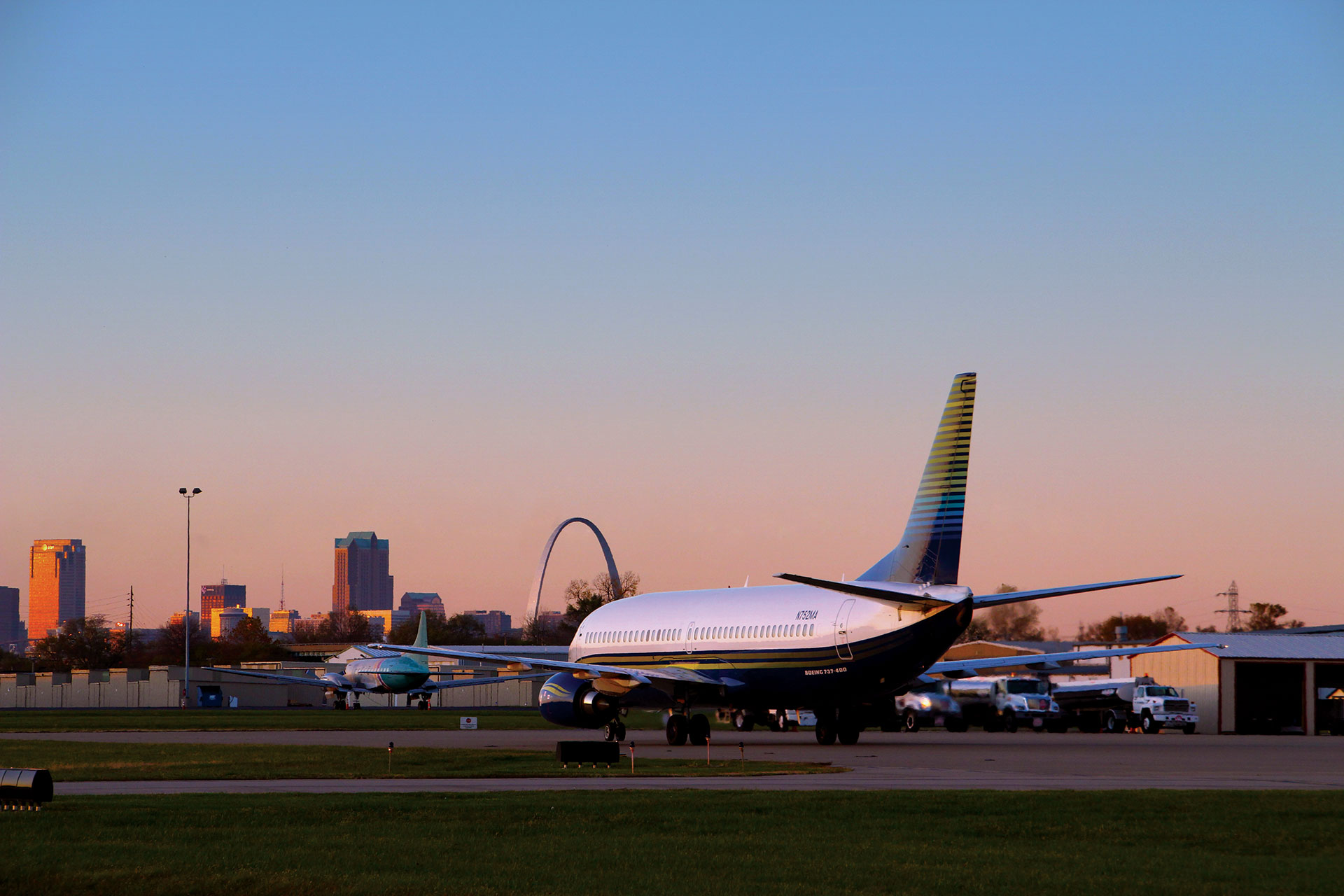 St. Louis Downtown Airport has received notification of an $850,000 grant award by the Federal Aviation Administration (FAA) to help fund needed improvements to its taxiway.
The federal funding will help to pay for the first phase of a rehabilitation project that will address the limited availability of adequate routes to and from the ramp area and runway to safely accommodate larger aircraft central to continued growth at the airport.
St. Louis Downtown Airport is owned and operated by Bi-State Development. Recent studies reveal the airport and associated St. Louis Downtown Heliport account for 3,371 direct and indirect jobs with a total payroll of $151 million. With a total economic impact of nearly $584 million, St. Louis Downtown Airport ranks among the top five airports in the state of Illinois. Based on both national and local economic trends, forecasts of future aviation demand at the airport indicate growth is expected in the coming years in various aspects of the airport's business. At the present time, it is the third busiest general aviation airport in Illinois behind O'Hare and Midway International Airports in the Chicago area. St. Louis Downtown Airport is the second busiest general aviation airport in the St. Louis region behind Lambert-St. Louis International Airport.
The number of aircraft based at the airport and number of associated annual operations are projected to increase, with the recovery of the St. Louis regional economy and the growth of the logistic centers in St. Clair County, Illinois serving as the primary drivers of that growth.
Additional growth is expected in aircraft charter flights, which largely consist of team travel by major professional sports teams visiting St. Louis. Many of these teams have already discovered the advantages St. Louis Downtown Airport offers in logistics and proximity to the downtown St. Louis hotels, stadiums and arenas. The airport administration is actively pursuing the operators of charter aircraft contracted to transport professional sports teams that do not currently use the airport to inform them of those unique advantages.
"These planned infrastructure improvements are critical to growing the existing relationship St. Louis Downtown Airport has with customers such as Delta Air Lines charter operations, which recently acquired 11 B757 planes configured to carry major league teams and other non-professional sports entities as part of an effort to grow its operations in St. Louis," said Erick Dahl, director of St. Louis Downtown Airport.
Dahl said, "The funded taxiway improvements will help to ensure that those larger planes can safely operate at St. Louis Downtown Airport and helps to solidify the charter operator's intent to grow here versus having to utilize another local airport."
In addition to being the airport of choice for professional sports teams, its location, only minutes from the Gateway Arch Riverfront with convenient access to all points in the St. Louis region, makes St. Louis Downtown Airport the region's front door for business aviation. It serves corporations such as Union Pacific Railroad, Peabody Energy, Monsanto Chemical and AB InBev. The airport is also home to the nation's oldest flight school, St. Louis University's Parks College. The airport serves as a major transfer point for patients and organs for transplant transiting to and from the region's many medical centers. St. Louis Downtown Airport's 26 aviation businesses directly employ approximately 1,400 workers in high-paying technical jobs, contributing to the facility's significant economic impact and offering a range of services, including charters, flight training, helicopter services, customization, maintenance, sightseeing and hangar rental. Among these are Jet Aviation, a division of General Dynamics, and Ideal Aviation. Other daily activities at the airport include recreational flying, utility inspections, law enforcement operations, military exercises and aerial photography. The airport also serves an emergency response role in the community.