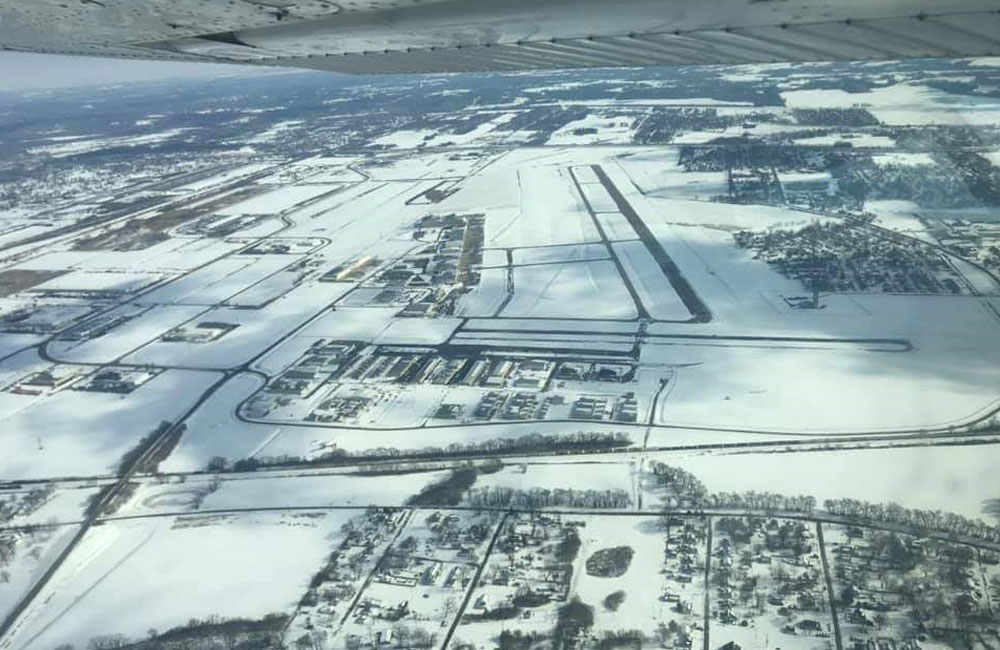 An aerial view of St. Louis Downtown Airport during a winter storm. Those familiar with the airport might notice that a runway is "missing." The airport maintenance team typically doesn't plow the north runway during winter storms, which is why it is not clear of snow. They instead focus on keeping the primary runway open and operational.
While severe weather conditions impact operations at airports around the world every day, it is critical that airports stay ahead of the storms by implementing preventative maintenance measures for key infrastructure systems. At St. Louis Downtown Airport, which is located in Cahokia Heights and Sauget, Illinois, the skilled professionals of the maintenance department have the equipment and manpower to maintain full airport operations during most inclement weather scenarios. They are trained to ensure continued compliance with 14 CFR Part 139, an airport operating certificate issued by the Federal Aviation Administration (FAA).
Robert "Bobby" Toenjes has been associated with St. Louis Downtown Airport for nearly four decades and heads the maintenance department, which provides oversight on construction projects, engineering consultation on prospective capital improvement projects, as well as preventive and unscheduled maintenance on a variety of equipment and structures. Toenjes and his team are responsible for pothole patching on the two miles of road leading up to the airport and sealing any cracks on runways and taxiways. The department also maintains a dozen different buildings on the airport's property, fixing roof leaks and hangar doors.
"No matter the season, there's always something for us to do," said Toenjes. "In the weeks leading up to the snow season, our team inspects and prepares each piece of snow removal equipment and takes inventory of required fluids, replacement parts and other snow removal equipment components. When snow, sleet, or icy conditions occur or are anticipated, we monitor the changing weather and runway conditions and conduct snow/ice removal operations across the entire airport as needed. We also pick up the pieces after extreme summer weather events like tornadoes blow through."
Toenjes and his four-man team have the airport covered seven days a week, and stay busy year-round on the airport grounds with 400 acres of grass to mow, seven miles of fence line to maintain, plus the preservation of all the runway and taxiway lights, telephone poles, fire hydrants and culverts. This also includes field wiring projects to dig up any sections of lights on the taxiway that go out, the testing of primary cables, isolation transformers and more. Regular preventive maintenance of the airfield promotes overall safety and provides pilots with the resources they need to fly safely. Other aspects like well-kept facilities create a safe environment for pilots while they're on the ground as well, which Toenjes noted, is a key part of the job to keep delays and cancelations minimal for the primary runway.
"We clear all the taxiways and runways for the airport, because if the snow piles up or if the grass grows up above the point where pilots can no longer see the lights, then they ultimately can't go anywhere," he added. "With the airport being located just minutes away from downtown St. Louis and the Gateway Arch, we have a lot of traffic come through here this time of year and sports teams coming in too, so it's especially important to keep operations running smoothly and efficiently to provide travelers with a convenient experience."