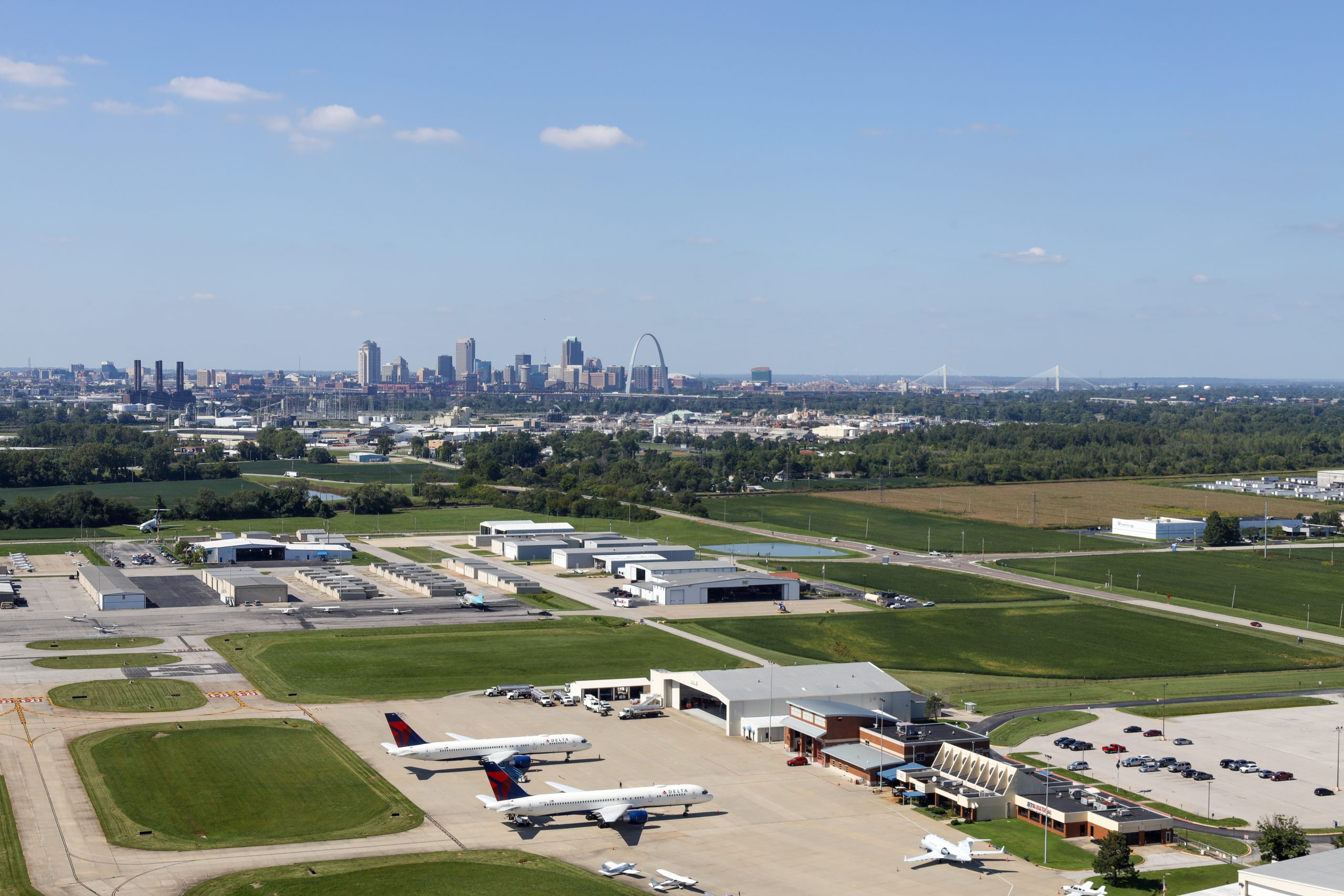 Construction is underway at St. Louis Downtown Airport on a new ground engine run up and compass calibration pad that will benefit aircraft maintenance providers and support high-tech aerospace manufacturing jobs. St. Louis Downtown Airport is the busiest general aviation airport in Illinois outside of Chicago, and was named 2020 Reliever Airport of the Year by the Illinois Department of Transportation's Division of Aeronautics. The airport is located on one thousand acres in Illinois just across the Mississippi River from downtown St. Louis in Cahokia Heights and Sauget.
The project will improve production safety, reliability and efficiency, boost airport businesses and increase global competitiveness for Southwestern Illinois and the State of Illinois. The airport secured $5 million in state funding through the $45 billion Rebuild Illinois Capital Infrastructure Plan Governor J.B. Pritzker signed into law in 2019.
The ground engine run up and compass calibration pad project includes new airfield pavement with jet blast deflectors to perform aircraft maintenance tests requiring the operation of an engine at high power on the ground for several minutes generating elevated noise levels. The aircraft maintenance tenants who will utilize this new facility currently conduct more 500 high-power engine run-up tests a year. They have indicated that the existing locations for such tests are no longer sufficient given the powerful engines of today's modern aircraft, which running at full throttle can cause blast damage more than 1,600 feet away.
The new engine run up will be located 1,850 feet from other parked aircraft and isolated from airport operations. The area will reduce aircraft engine run-up noise by more than 50% and will accommodate the airport's largest aircraft.
"The ground engine run-up project is necessary to support current and future operations of our key tenants at the airport. It is part of our overall airport infrastructure implementation plan that supports 25 airport tenant manufacturing and aviation operations, ensures tenant leasehold longevity and supports future airport business growth," said Mary Lamie, Executive Vice President of Multi Modal Enterprises at Bi-State Development. Bi-State Development owns and operates St. Louis Downtown Airport.
Baxmeyer Construction in Waterloo, Illinois, was awarded the contract for the $5.4 million project, with St. Louis Downtown Airport covering the cost above the $5 million IDOT grant. Construction is expected to be completed in 2023.
"We appreciate the investment by the State of Illinois for this important project and are confident that it will enable us to continue to grow the annual economic impact of the airport," said St. Louis Downtown Airport Director Sandra Shore.