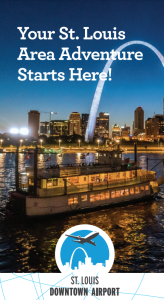 St. Louis Downtown Airport's (KCPS) new Visitors Guide showcases more than 30 popular attractions and extraordinary experiences all within a 15-minute drive of the terminal and in close proximity to the downtown area of St. Louis. Located just across the Mississippi River, east of Downtown St. Louis in Illinois, the airport serves as a Gateway to the Metropolitan area and the many tourist attractions and amenities that landed St. Louis a spot on the list of World's Greatest Places of 2021 by TIME Magazine.
"Our customers choose to fly to St. Louis Downtown Airport for convenient access to the central business district, educational institutions, major sporting events, concerts, races and more. Given the transformation St. Louis has undergone over the past 10 years, we invite everyone to explore more of our wonderful city and region when they come to town," said Mary Lamie, Executive Vice President of Multi Modal Enterprises for Bi-State Development, which owns and operates the airport.
The guide, which is available for download at stlouisdowntownairport.com/visit, provides suggestions for different types of places to visit, ranging from museums, parks and stadiums to casinos, breweries and a host of other unique attractions. It also includes a handy list of hotels in the heart of the city and a map to see at a glance where everything is located in relation to St. Louis Downtown Airport.
One must-see attraction is the Gateway Arch National Park, which is only a 12-minute drive from the airport. The magnificent Gateway Arch soars 630 feet, making it the tallest arch in the world. Onlookers can admire the structure from the park grounds or take a tram ride to the top for a unique view of the Mississippi River and two-state area. The multimillion-dollar investment by CityArchRiver incorporated new features to the landscape design of the Arch Grounds and transformed the Park into a vibrant urban nexus that reconnects Downtown St. Louis to the riverfront and surrounding neighborhoods. The project also included a new museum covering 201 years of history about the westward expansion of the United States with an emphasis on St. Louis' paramount role in that era. Visitors can also board one of the Riverboats at the Gateway Arch for a cruise on the Mississippi River, with multiple themed cruises available.
For a sports-centered experience, stroll a few blocks southwest of the Gateway Arch to Ballpark Village. Adjacent to Busch Stadium, home of the St. Louis Cardinals baseball team, Ballpark Village offers more than 120 annual events along with entertainment and dining experiences. With hundreds of millions of dollars already invested in Phases 1 & 2 of the development, Ballpark Village has become an exciting 24/7 urban neighborhood for visitors and residents. Ballpark Village's most recent additions include a 29-story luxury residential tower, One Cardinal Way, the first new construction Class-A Office Building in downtown in more than 30 years; an upscale Live! By Loews hotel, and a three-story retail pavilion.
St. Louis Union Station is located a few blocks west of Ballpark Village. Built in 1984, the passenger rail terminal has been renovated to deliver an experience-rich venue while maintaining the nostalgia of this treasured destination. Highlights include the stunning St. Louis Aquarium and the 200-foot St. Louis Wheel, which offers visitors a bird-eye's view of the train shed and St. Louis skyline.
World Wide Technology Raceway is a premier motorsports venue that is home of INDYCAR, NHRA, and NASCAR racing in the St. Louis region. Only five minutes northeast of St. Louis Downtown Airport in nearby Madison, Illinois, it serves as the largest outdoor entertainment facility in the area. The facilities include a ¼-mile drag strip and a 1.25-mile superspeedway, and the recently added 2.0-mile road course, karting facility, and Gateway Drive-In Theater. World Wide Technology Raceway will be in the national spotlight this summer as it hosts the NASCAR Cup Series in June.
No trip to St. Louis would be complete without taking in the natural beauty of Forest Park on the city's western edge. Covering more than 1,300 acres, the stunning park is even bigger than Central Park in New York and attracts more than 12 million visitors a year. Take a scenic walk around the various water features, enjoy a round of golf or visit the cultural institutions onsite. Major attractions located within the park include the St. Louis Zoo, St. Louis Art Museum, Missouri History Museum, Saint Louis Science Center, Muny Opera, the Boathouse restaurant, and more.
"While this is just a sampling of what we've included in the new guide, there's no question it's an exciting time to visit the St. Louis region. We want business travelers and private aviators who have the ability to fly in for a visit to realize just how close our airport puts them to all the city has to offer," Lamie said.